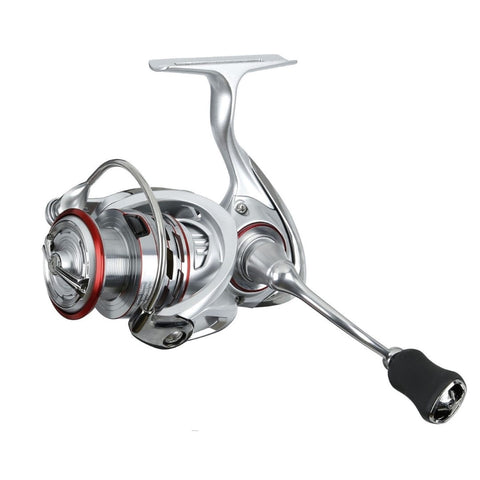 Daiwa Procyon LT Spinning Reel
PCNALT2500D-XH
For a higher level of performance, the Daiwa Procyon AL spinning reel family is back for freshwater or inshore applications. From redfish, snook, bass, walleye, and trout, the Daiwa Procyon AL spinning reel offers anglers the perfect fishing reel for the pursuit.

The Daiwa Procyon AL spinning reel is available in five sizes from the PCNAL2000D model for freshwater fish to the PCNAL4000D-C, which fits the bill nicely for inshore applications and larger freshwater fish.

The Daiwa Procyon AL spinning reel is rich in its feature set. First, the fishing reel series features an aluminum body that allows less body and frame flex providing better support on the gears and bearings allowing increased torque and power while also allowing longer life to the gears. Anglers will find that the aluminum body of the Daiwa Procyon AL spinning reel is incredibly lightweight when they pick it up and put it on their favorite fishing rod.

The Daiwa Procyon AL spinning reel also features an air rotor engineered to be very rigid, especially at high drag pressures with little flex. The Daiwa Procyon AL spinning reel also has generous cut-outs in its engineering design, which reduces the weight of the rotor. The new fishing reels also showcase a tubular air bail that reduces weight and offers more rigidity than standard wire, so you get less flex and bending or breaking. The tubular air bail is also manufactured with thicker material that feels good on the fingers when flipping the bail by hand.

Another element of the series is DIGIGEAR technology, digitally cut to reduce weight, and considerably better gear meshing increase smoothness and gear wear.

Anglers will also find Daiwa's distinctive Advanced Tournament Drag (ATD) a benefit for setting the hook and fighting fish. When you set the hook, the fishing reel instantly adds drag resistance, and then as the fish starts pulling drag, the ATD drag curve automatically returns to your prescribed setting.

The Daiwa Procyon AL spinning reel family features Long Cast ABS spool as well. The design of the spool's lip allows the line to exit the reel at a much tighter cone-shaped angle, meeting the guide train with less resistance and force, alleviating wind knots and allowing for longer casts.
Daiwa Procyon AL Spinning Reel Features:
New smaller frame, aluminium body and housing.
Machined aluminum alloy Digigear for unparalleled smoothness and durability.
7 ball bearing system - 6 BB and 1RB.
Designed for freshwater, inshore and offshore fishing applications.
Learn more about Daiwa fishing gear at www.daiwa.com.
---
We Also Recommend